Overview
Offenburg University offers a wide range of facilities to ensure your career as an international business consultant or business manager.
The Career Center is made up of a team of experienced career counselors who can direct you through your contemplated or chosen career path. They have excellent contact with regional and international companies and jobs are always made known and available to students.
Seminars on Applying in Germany will get you ready for writing applications successfully and presenting yourself to companies. The Career Center will also help to correct and translate CVs and letters of motivation.
In addition, Offenburg University hosts a career day at the university and participates regularly in recruitment fairs at Cologne, Hannover or other bigger cities where students can directly contact companies, make enquiries about available positions and discuss any concerns they may have.
Field trips to companies such as Daimler, SMART, etc. provide an excellent window of opportunity for students to get close to the organisations' work environment, structure and first hand overview of career opportunities.
Our alumni have also been an excellent contact for obtaining positions, be it for obtaining internships or employment upon graduation. Alumni members get in touch with our careers counselors if any jobs are to be offered.
Alumni
An alumnus is without a doubt the most telling about the reputation of the university and quality of the education received. MBA-IBC alumni trail is long, scattered all over the world but with a very emotional and binding tie with the university, the department and the region. Some of the positions held by our alumni are in consulting with the top 5 consultancies, financial managers and project managers in organisations worldwide.
The MBA-IBC alumni network is currently made up of more than 200 members. The interaction with alumni remains through our biannual newsletter, which garners comments and feedback from them, through our alumni database as well as our Facebook page.
You can also gain some knowledge about the university's alumni, where they work and live, in which field of study they graduated, etc. and make contact through Linked In.
Current Placements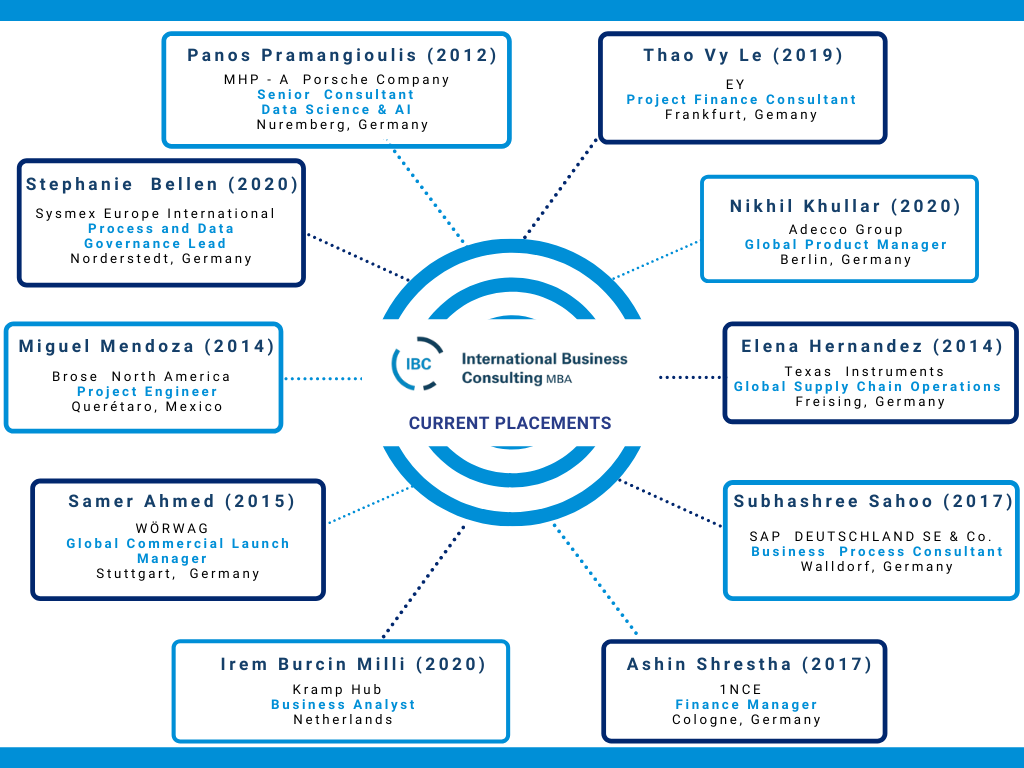 Internships
Internships usually take place in the 3rd semester (final winter semester). This involves the placement of the student in an organization where there is a suitable topic for the Master thesis.
It is a crucial period in the student's life, usually the first exposure to the local working environment. Assistance is rendered by the MBA-IBC Administration or Career Center: Resume overview services - to employ the German resume format to ensure compatibility, interview skills, presentation skills, field trips to companies, contact to faculty/visiting lecturers on opportunities available.
"Working as a project management intern in a multinational company with about 5,000 employees worldwide, Herrenknecht AG (market leader in Mechanized Tunneling Technology), undoubtedly, is a milestone in my 20s. The advantages are manifold: The chance to work with professional experts, professional software like SAP, become familiar with the German working style, improve my knowledge and work experience at the same time as wrting my Master thesis with the company."
"Working in Bayer, I gain insight in strategic projects in Europe where I am actively involved in the implementation and follow-up with the processes of internal and external product training for ou main target groups: marketing, sales and clinical representatives. I provided support in the development of trainig plans by creating related training materials and the maintanance of our internal Learning Management System. As I am operating from the headquarter in Bayer Pharma AG, I have the privilege to interact with people from all regions in Europe. In addition to my skills and knowledge gained from my MBA, as Bayer employee I have developed an integral set of values: Leadership, Integrity, Flexibility, Efficiency."
"Currently I am doing an internship in international logistics planning at Daimler AG in Sindelfingen. Daimler AG is one of the leading Automakers in the world. I feel fortunate to find myself in a completely diverse international team. I got the opportunity to work in international logistics cost optimization projects and also designing digital shop floor management systems in view of lean management approach. There are ample of opportunities to learn and enhance one's skill. I am feeling satisfied to implement my knowledge of project management, supply chain management and business intelligence from IBC in the project work at Daimler. Though the internship demands to work in English, still this is a great chance to improve my German language skills with time."
"I was intrigued by the work culture of Adidas AG after speaking to some of my friends who had done an intership at Adidas AG. I am interning at Marketing Program Management which has provided me a platform to gain deeper insights into the marketing industry. One gets to learn a lot about the products, designs, customer perceptions and so on. I like how interns are treated just like full time workforces and are part of crucial and beneficial work engagements. This is indeed a positive learning experience and a great place to network with people from whom we can derive great inspiration."
"Having the opportunity to work in a German bank was one of the best experiences of the MBA. Especially because I got to know in real life the German work culture, which I was impressed on how people-oriented and flexible it is. I was part of a database migration project regarding internaional reporting within the Finance Department, with duties and responsibilities like other employees. Most of the time I worked with SAP BI and SAP BW, tools covered in Business Information Systems (lecture of the IBC program). The learnings were several and I had the chance to improve my German language skills by communicating with my boss and co-workers and also by attending meetings in an entirely in German atmosphere. Additionally, I lived in a great city with lots of events and aktivities like Oktoberfest, Champions League games, opera, museum visits, concerts, conferences and outdoor trips."
Statistics
We have highlighted below some of the relevant statistics obtained via an internal survey on our MBA alumni. This survey measured the employment upon graduation, the earning capacity and the key strengths of the MBA-IBC program. If you are interested in reading about where and in which positions some of our alumni got hired after their studies at Offenburg University, please have a look at their profiles.
Hinweis
Bitte melden Sie sich mit Ihrem Login und Passwort an.
Als Hochschulmitglied können Sie Ihre Campus Benutzerkennung verwenden.